Romantic Textualities are pleased to publish a special issue on The Minerva Press and the Literary Marketplace, guest edited by Elizabeth Neiman and Christina Morin, after an extended hiatus of some three years.
Excerpt from the editorial:
Romantic Textualities has enjoyed a long, fruitful association with research into William Lane's Minerva Press, whose heyday spanned the 1780s to the 1820s. any of the journal's early issues shared bibliographical research that emerged from collaborative projects between Cardiff and Paderborn Universities. These partnerships resulted in the publication of two bibliographies (The English Novel, 1770–1829 [2000] and 1830–1836 [2003]) and a database (British Fiction, 1800–1829 [2004]). As the most prolifiic publisher of fiction during the Romantic period, Minerva figured substantially in our research, demonstrating that the early history of the novel was very much the history of the Lane's press. Our bibliographic updates were supplemented in Romantic Textualities by standalone essays and reports on the Minerva Press, but such items tended to be occasional pieces. So, it is with much satisfaction that we now present readers with an entire issue dedicated to Minerva and its contribution to the Romantic literary marketplace.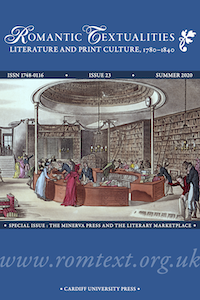 For more details of the issue and to read this excellent collection of articles, click here.